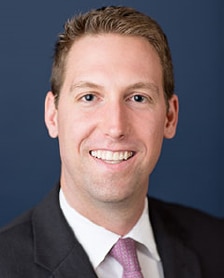 Hennigh Law Corporation
Four Embarcadero Center,
Suite 1400
San Francisco, CA 94111-4164
415-325-5855
Hennigh Law Corporation
700 Flower Street,
Suite 1000
Los Angeles, CA 90017
213-277-7226
With the cool precision of a military strategist, Garrett Mott's legal prowess and trial skills make him a formidable advocate in the courtroom.  As a trial attorney, Garrett is known for his expertise in representing real estate and construction companies in sensitive and intricate litigation.
Garrett's practice revolves around managing high-stakes cases.  He excels in navigating complex legal landscapes and has amassed a wealth of first-chair experience in high-profile, multi-week jury trials and arbitrations. His ability to craft compelling case themes, conduct impactful direct and cross-examinations of witnesses, and skillfully draft persuasive opening statements and closing arguments sets him apart as a trial lawyer of exceptional caliber.
Beyond his courtroom triumphs, Garrett is highly skilled in achieving favorable resolutions for his clients before trial. Leveraging his extensive trial experience, he effectively engages with California's leading mediators, as well as entities such as the United States Attorney's Office and the County District Attorneys. Through his creative negotiation, Garrett has successfully resolved significant disputes, showcasing his ability to secure advantageous outcomes for his clients.
After graduating the University of Southern California magna cum laude, he served as the Senior Technical Editor of the Law Review of Loyola Law School, Los Angeles, and graduated from there cum laude. This experience honed his analytical skills and refined his ability to craft persuasive legal arguments.
Further adding to his legal acumen, Garrett served as a judicial extern to the Honorable R. Gary Klausner in the U.S. District Court for the Central District of California. This invaluable experience provided him with firsthand insight into the judicial decision-making process and further solidified his commitment to delivering exceptional legal representation.
Representative Work
Trial counsel on a six week jury trial resulting in a favorable eight figure verdict for the client.
Trial counsel on a three week arbitration resulting in an eight figure award with punitive damages.
Trial counsel on complex, three-month-long jury trial involving representation of contractors against designer for design errors and omissions on public highway project.
Trial counsel on high-profile, multi-week federal insider trading jury trial.
Trial counsel on two-week federal bribery and obstruction of justice jury trial.
Trial counsel on complex, multi-week arbitration involving wage and hour claims brought by nearly 100 plaintiffs.
Represented one of California's largest solar companies against billionaire real estate magnate in multi-million dollar payment dispute.
Represented ENR Top 400 national contractor against national designer for design errors and omissions on public highway project.
Represented real estate investor against contractor for delay and disruption damages relating to high-end remodel of a historic home.
Represented real estate investor against celebrity buyer of luxury.
Westside condominium following shocking death of celebrity buyer's daughter in investor's home.
Represented home owner against bankrupt contractor for defective work in homeowner's childhood home.
Represented home owners against national home builder in SB800 litigation relating to shoddy new construction in luxury condominium complex.
Represented contractor against non-paying residential and commercial customers in mechanics lien actions.
Represented major corporation's CEO against owner-builder for intentional misrepresentations relating to luxury home sale.
Represented real estate developer against subcontractor's spurious claims of non-payment and failed attempt to foreclose on mechanics lien.
Represented multi-national petroleum company in complex litigation involving strategic lease of Long Beach tank farm.
Represented local savings and loan in bet-the-company employee fraud and data breach case.
Represented California's largest provider of worker's compensation insurance in vast federal healthcare fraud litigation.
Represented a major entertainment studio in high-stakes internal investigation regarding alleged misconduct by CEO.
Represented global conglomerate CEO in sensitive extradition case involving alleged Chinese pyramid scheme.
Advise and counsel real estate investors and contractors on contract formation, contract performance, and dispute resolution.
Advocated pro bono for criminal defendants, Holocaust victims (reparations), veterans, and the underserved (unlawful detainer).
Publications
"Lessons On Losses From 3 Recent FCA Settlements," Law360 (December 2017)
"Latest Healthcare False Claims Act Roundup and Top 3 Best Practices to Reduce Exposure," co-author (September2015)
"Game Over for Regulating Violent Video Games? The Effect of Brown v. Entertainment Merchants Ass'n on First Amendment Jurisprudence," Loyola Law Review, Vol. 45 No. 2 (2012)
Presentations
"Deconstructing The Top Legal Issues for Real Estate Investors and Developers" (August 2018)
"Essential Collection Rights & Remedies" (August 2018)
Community Involvement
Public Safety Commission, Chair
Orange County Sheriff's Advisory Commission, Member
Orange County Planning Commission, Member
The Elite OC Young Professionals Society, Director
Federal Bar Association of Orange County, Young Lawyers Division, Founding Member
Public Law Center's Federal Pro Se Clinic, Attorney Volunteer
Loyola Law School Student & Alumni Mentoring Program, Mentor
Judicial Clerkships
Judicial Extern to the Honorable R. Gary Klausner, U.S. District Court for the Central District of California
Academic Distinctions
Loyola of Los Angeles Law Review, Senior Technical Editor (2011-2012), Staff Member (2010-2011)
Order of the Coif
St. Thomas More Law Honor Society
First Honors: Civil Procedure II; Criminal Law
Education
J.D., cum laude, Loyola Law School Los Angeles (2012)
B.A., magna cum laude, University of Southern California (2009)
Admissions and Courts
California
U.S. District Court for the Central District of California
U.S. Court of Appeals for the Ninth Circuit